I just got back from Lake Tahoe and can I tell you that relaxing is amazing.  Now let me go back a few years and I couldn't say that.  I remember going to Lake Tahoe for our family vacation and everyone in my family was relaxing. Whether it was reading, watching TV or napping. Not me, I was walking around thinking 'what should I do?'  Run or listen to something inspirational so I can grow myself (not necessarily a bad thing but for me "doing" needed to be in check).
I didn't know what to do with myself but I had the awareness that 'Rene this is not good that you can't relax.'
I can now say after years of working on myself and having awareness, this trip there was no thought involved with relaxing. Relaxing felt natural… YES!  I didn't even workout and anyone that knows me knows that's a big deal.  I didn't even think about working out, last year I ran once. Previous years I would have to be conscious of my critical voice not this year; that voice was quiet.
I have talked about in my previous post how doing, doing, doing was how I thought I could feel that I was enough. I thought that no rest or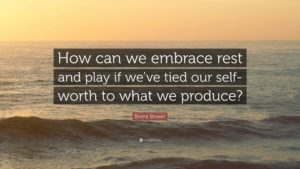 play could happen until I cleaned up my mess. Honestly that cycle is so tiring because when you are on that, you can't ever do enough.  You know why?  Because your 'enoughness' doesn't come from doing, how you look or what you say, it comes from the simple fact that you were born on this glorious earth; whole, beautiful and magnificent. It's not about what you do… it's about who YOU are. It took some time for those words to go from my head to my heart.
Rest and Play are just as important as work. That was something I had to tell myself over and over.  Let me ask you… what is play to You?  Now you can't say playing a board game with your kids.  What is something YOU love?  What is something that fills your heart?  What makes you smile?  When I presented with that question, I cried. I had no idea.  That question led me on a path to add rest and play into my life.  It certainly didn't happen immediately.  It took practice.
I smile thinking about my trip to Tahoe.  Rest and Play are a part of my life and I love it.
I desire a Wholehearted life and I practice daily to live that and I say practice because I haven't arrived.
What is a Wholehearted life?
A Wholehearted life defined by Brene Brown:
1. Cultivating Authenticity: Letting Go of What People Think
2. Cultivating Self‐Compassion: Letting Go of Perfectionism
3. Cultivating a Resilient Spirit: Letting Go of Numbing and Powerlessness
4. Cultivating Gratitude and Joy: Letting Go of Scarcity and Fear of the Dark
5. Cultivating Intuition and Trusting Faith: Letting Go of the Need for Certainty
6. Cultivating Creativity: Letting Go of Comparison
7. Cultivating Play and Rest: Letting Go of Exhaustion as a Status Symbol and Productivity as Self‐Worth
8. Cultivating Calm and Stillness: Letting Go of Anxiety as a Lifestyle
9. Cultivating Meaningful Work: Letting Go of Self‐Doubt and "Supposed To"
10.Cultivating Laughter, Song, and Dance: Letting Go of Being Cool and "Always in Control
This is this the work I do with the women I coach.  If you desire to live a wholehearted life then let's talk. I too desire to live a Wholehearted life and I've learned some things along the way that I love sharing.
When you finish reading this post and go about your day, I want you to remember this… When you walk into a room, know that YOU are special, know you mean something to this world, your feelings matter, your story matters and I believe in YOU!
Big Hugs!
Rene ♥