Thermography

Breast Thermography testing is a radiation-free state-of- the-art screening procedure that captures heat images of the breast to aid in the early detection of cancer and fibrocystic breast disease. As a tumor grows it develops a blood supply that emits heat that is detected on a modern infrared device as seen below.  Thermography can establish overall breast health and is an excellent test for assessing fibrocystic breasts and response to treatment.  Thermography works great as a part of a multi-modal approach.
BREAST THERMOGRAPHY TESTING
Breast Thermography Testing and The FDA
The Food and Drug Administration has cleared thermography for several purposes as an adjunctive screening.  One of these is breast cancer screening. It is important to understand that breast thermography is not a stand alone procedure for breast cancer screening.
Combining Screening Techniques:
Clinical Examination: 61% sensitivity

Mammography: 66% sensitivity

Infrared imaging (Thermography): 83% sensitivity
All 3 Techniques Combined: 98% sensitivity
Sensitivity definition: In medical diagnosis, test sensitivity is the ability of a test to correctly identify those with the disease (true positive rate), whereas test specificity is the ability of the test to correctly identify those without the disease (true negative rate).
Why Not Increase the Chances of Detection by Combining the Testing.   
What's the Difference between Mammograms and Thermography?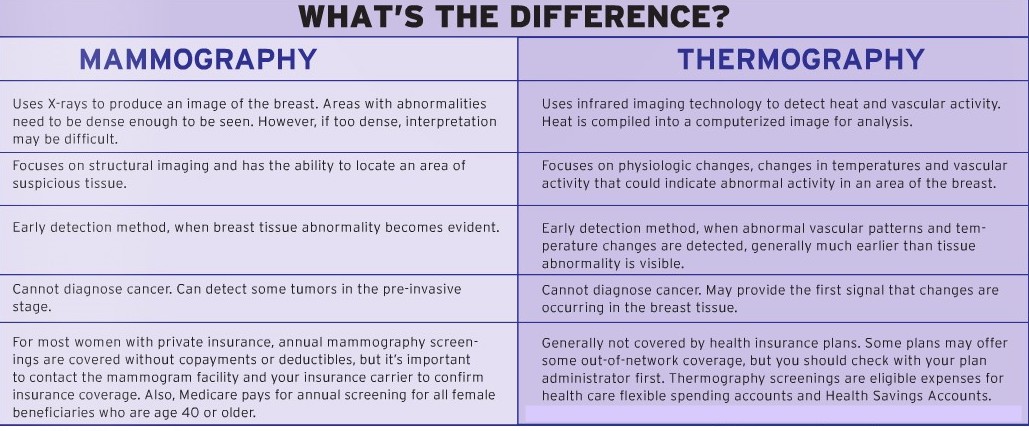 It is Anatomy vs Physiology
Mammograms assess the anatomy or structure and Thermography senses the thermal radiation from the surface of the body. It reveals the metabolic activity of the area studied.
Thermography is able to do what anatomical test can not:
Find tumors 1-5mm and smaller
Detect metabolic activity of cancer cells
Detect change in activity of the disease process in response to treatment
Combining Thermography with Mammograms and Clinical Examination is the way to go!
Call Now to Book Your Appointment
805-741-7462
 Call Now to Book Your Appointment
805-741-7462