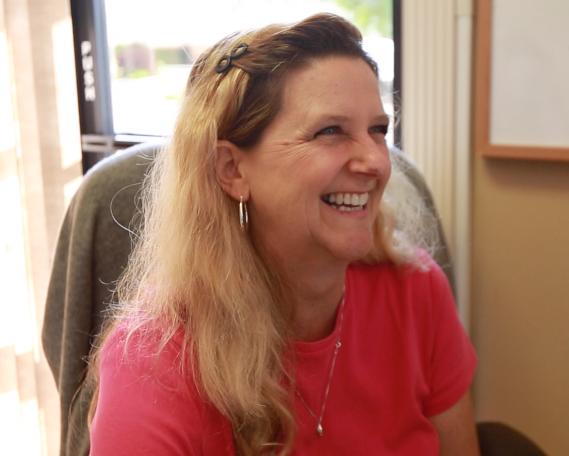 You will see Rene mostly in morning. She does a lot of the higher level managing. We would call her the office manager but she does way more than that. She loves meeting the patients and helping to create an environment of health and vitality.  She has been under Chiropractic care her entire life. She is a certified life coach. She has passion for helping people to live a better quality of life. We have raised a family without drugs or vaccinations. Rene has never had any kind of medications/drugs.  She is an advocate for moms to educate themselves about health care possibilities that exist for themselves and their children.
Dr. Bruce focuses on the nervous system and she focuses on the Mind and Heart with her life coaching. She absolutely loves helping woman feel, see and know that who they are MATTERS. This world has a funny way of making us feel small and when we look in the mirror we don't see the magnificence and awesomeness of who we really are. We all have a story; and our story matters.
In her free time she works out at Crossfit Ohana, runs at the mission and enjoys being with her son K.C.  Healthy eating, cooking and exercise are a part of her regular lifestyle.
Geri Zavala started as a patient in Dec. 2004 and then 2008 she became a part of the Life Chiropractic team.
Geri's Story:
When my husband and I began coming to Life Chiropractic, my husband was taking Advil a few times a day for headaches.  My husband had numbness in his left arm and hand on a daily basis.  I had a very sore right arm, to which I once had a shot of Cortisone, but to no avail. I had a lot of lower back pain. My eldest daughter would take allergy medication to keep from waking up every morning blowing her nose and having red eyes.
What we have learned in our time at Life Chiropractic is that it is important to allow the body to learn to fight issues on its' own.  The body needs to use the natural immune system and it cannot do so if we continue to mask the pain artificially with the use of drugs.  We no longer have any type of pain killer in our home.  We do not have the headaches at all anymore and the numbness in my husbands' arm is less frequent and only flares up upon occasion, such as overuse and strain.   My daughter no longer takes any allergy medication of any kind.
We have been further educated and for our family, chiropractic care is the only health care we use.  I try to share with people I meet that chiropractic care goes beyond "a sore back".